The 78th Annual Toronto Construction Association Luncheon

December 2, 2022

The Building Show event week was a huge success, capped off with a massive attendance at the TCA's Christmas Luncheon. Industry stakeholders from builders, owners and consultants were afforded an excellent opportunity to network and be entertained by Derek Seguin comedian and MC.


The 2019 60th Anniversary AGM Congress
July 25 - 28, 2019
The CIQS Congress in Quebec City provided for a diverse range of continuing professional development topics for the attendees. Translators were on hand for French and English communication.
Topics included the following areas:
Prompt Payment & Adjudication Sweeping Reforms Gather Momentum; by Antoine Aurelis

Analytical Approach to Problem Solving; by Michael Zegarelli

International Construction Measurement Standards (ICMS); by Roy Howes

Promoting Collective Intelligence by Developing People; by Catherine Prive

Earned Value Management; by Alain Gregoire
Concluding with a Panel Discussion on Emerging Technologies "Data, Data Standards, and Analytics to Improve Cost Estimates - Role of ICMS"
Panelists included Susan Neil, Scott Wilkinson, Glenn Hultzer, Roy Howes and Anil Sawhney as moderator.
(see CPD section for more details)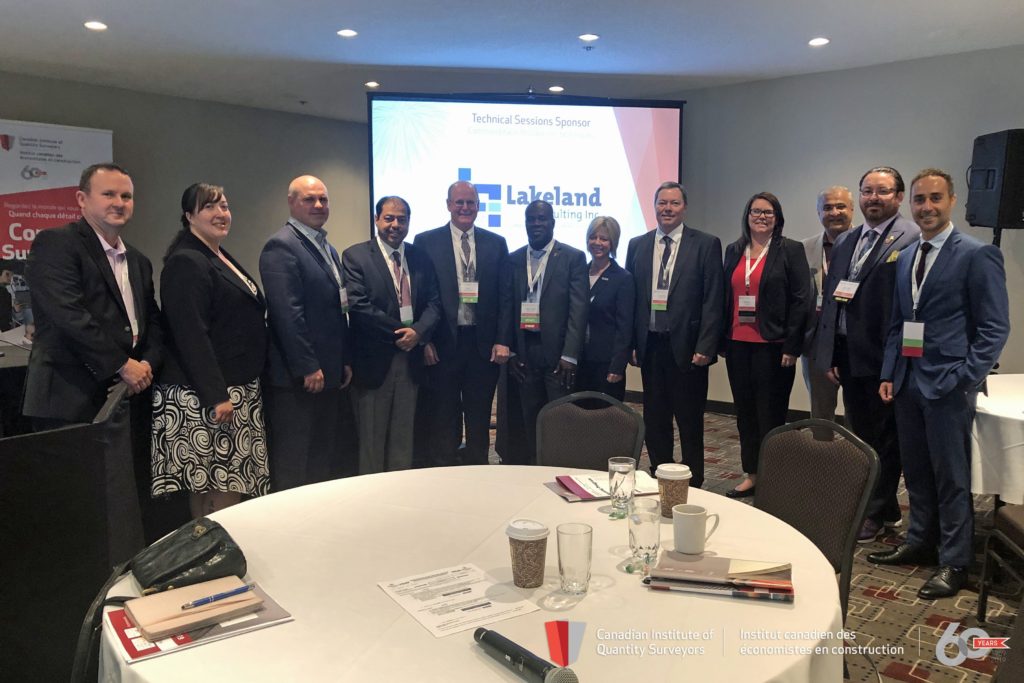 CIQS/RICS 5th Annual Construction & PM Seminar
March 6, 2019
The CIQS/RICS Prairies & NWT Chapter hosted its 5th annual Construction and Project Management Seminar on Wednesday, March 6, 2019 at Fort Calgary. The event theme presentation speaker, Toby Hendrie, Project Director of PCL Construction Management Ltd. provided some great insight into the Victorian Comprehensive Care Centre and the new Calgary Cancer projects, the challenges and complexities faced, and the opportunities the design build model can offer.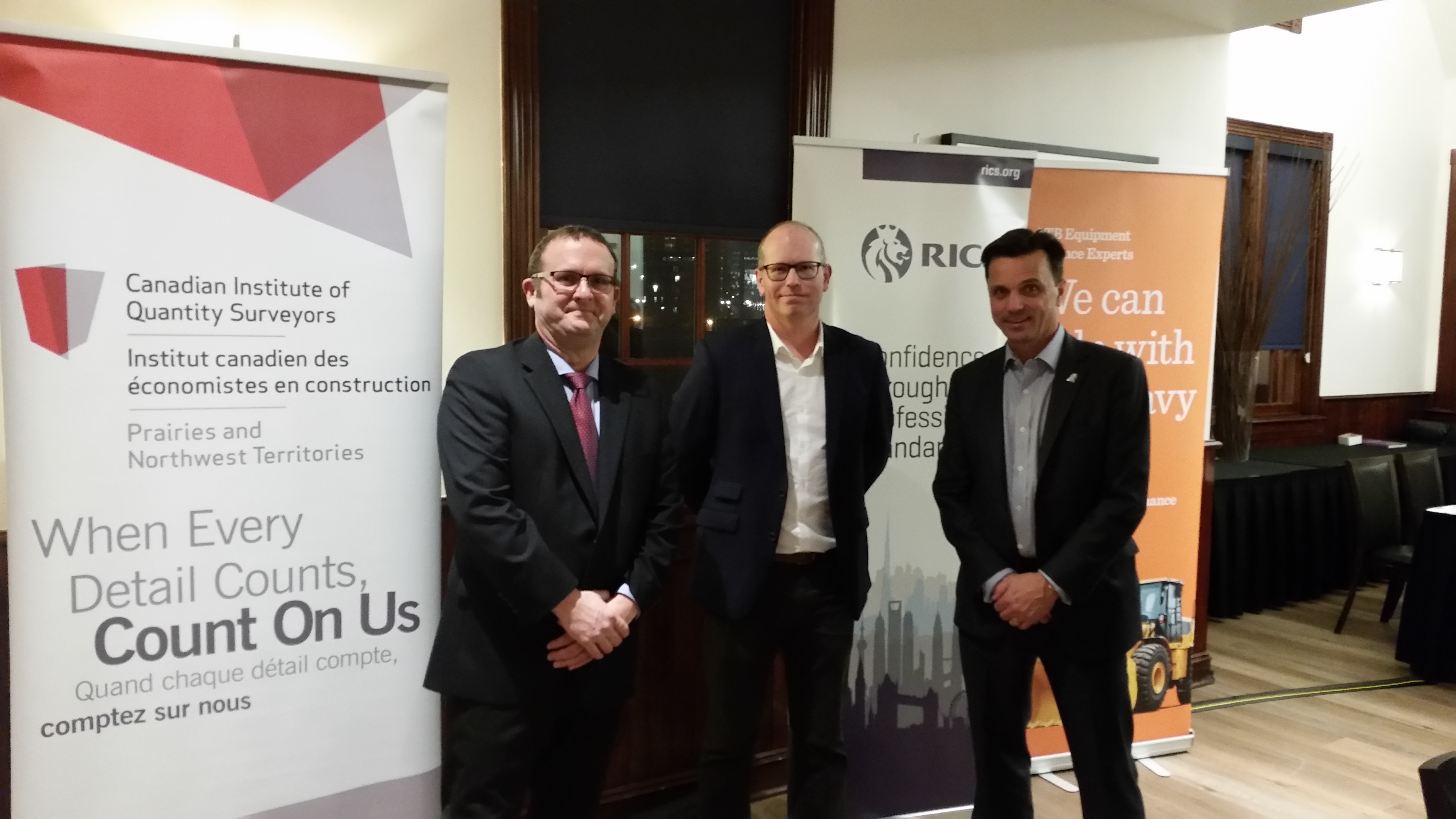 From Left: Jerry Crawford, Toby Hendrie, Doug Johannson
CIQS/RICS 4th Annual Construction & PM Seminar
March 1, 2018
The fourth annual CIQS/RICS Prairies & NWT Chapter hosted a Construction and Project Management Seminar on Thursday, March 1, 2018 in downtown Calgary. The event theme presentation speakers were, Nick Brons, Survey Manager of KGL Constructors discussing various robust geomatics technology applications for the new Calgary SW Ring Road expansion, and Doug Cinnamon, Studio Managing Principal of the new Calgary Airport 24-gate Trans-border Terminal, providing insight into design challenges and technology advances in design through his 8 hours of procurement experience.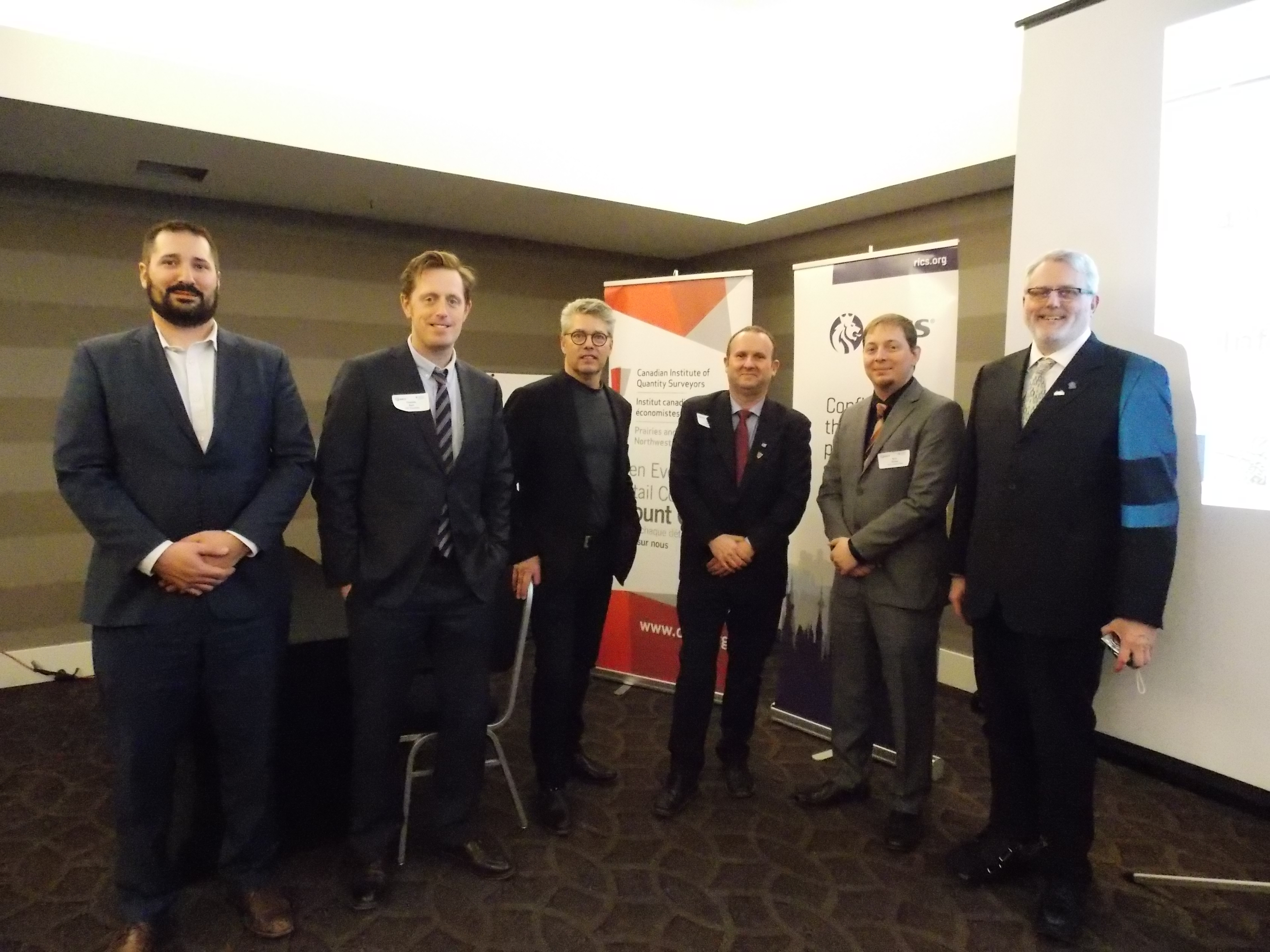 From Left: Michael Gabert, Thomas Burr, Doug Cinnamon, Jerry Crawford, Nick Brons, and Bruce Calderbank
Design and Construction Trends Analysis Committee
Thursday, January 25, 2018
Representatives of the CIQS Prairies and NWT Chapter participated in the annual "Design and Construction Trends Analysis Committee" held at the Calgary Telus Convention Center, on January 25, 2018. The Event participants from the public and private sectors included, Alberta Health Services, Alberta Infrastructure, Alberta Roadbuilders, Alberta Transportation, The City of Calgary, The City of Edmonton, Consulting Engineers of Alberta, several Contractors and the CIQS. The forum panel looks at several issues on an annual basis, including but not limited to the following:
The Economic Outlook for Calgary and Edmonton, procurement and tendering, labour market conditions, supply chain management issues and facilities maintenance.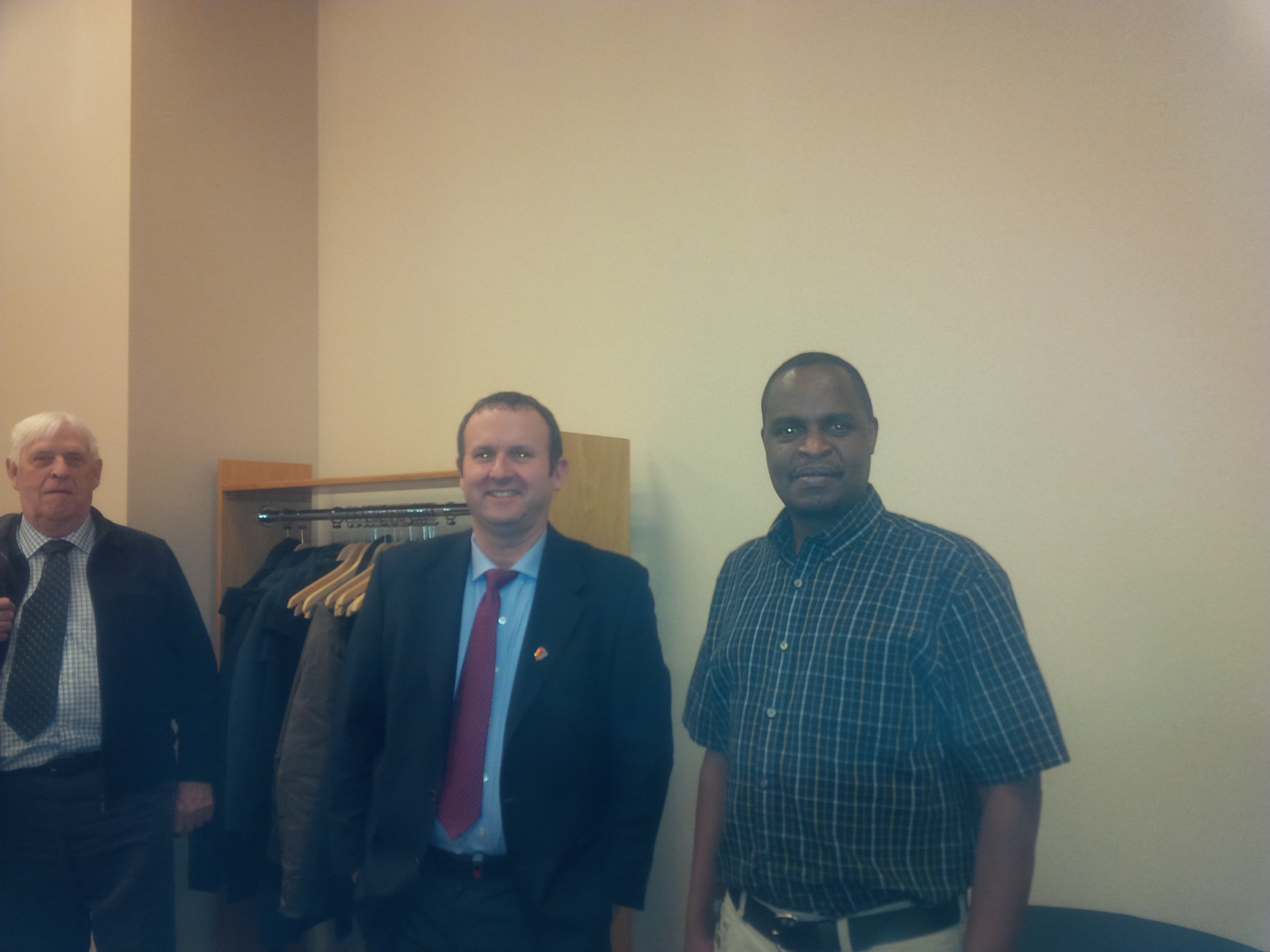 From Left: Roger Ward, Jerry Crawford, Dominic Kiema (Alberta Infrastructure)
CIQS Document Management Dinner Seminar 
Thursday, January 25, 2018
The CIQS Prairies & NWT Region Chapter of Calgary, recently hosted a dinner meeting in January to listen to a presentation from Christopher Vance of Multivista, about a more effective and efficient visual document management technology, that will assist individuals tasked with undertaking progress mortgage monitoring, change order evaluation and schedule impact delay analysis. Multivista is a leading global provider of documentation and software services for the construction industry with strategic partners such as Matterport, Procore, Leica Geosystems, Autodesk and e-builder.
From Left: Jerry Crawford, Christopher Vance
SAIT Industry Night - November 16, 2017
The CIQS Prairies and NWT Chapter recently attended and provided a Silver Sponsorship for the recent 6th Annual Construction Project Management Students' Association industry night. This is the third year in a row CIQS has attended and sponsored the SAIT event.
Chapter Representative and Events Coordinator

Jerry Crawford, Megan Muckle
Event Attendees

(L-R) Martin Tokar, Jerry Crawford, Joshua Ikubor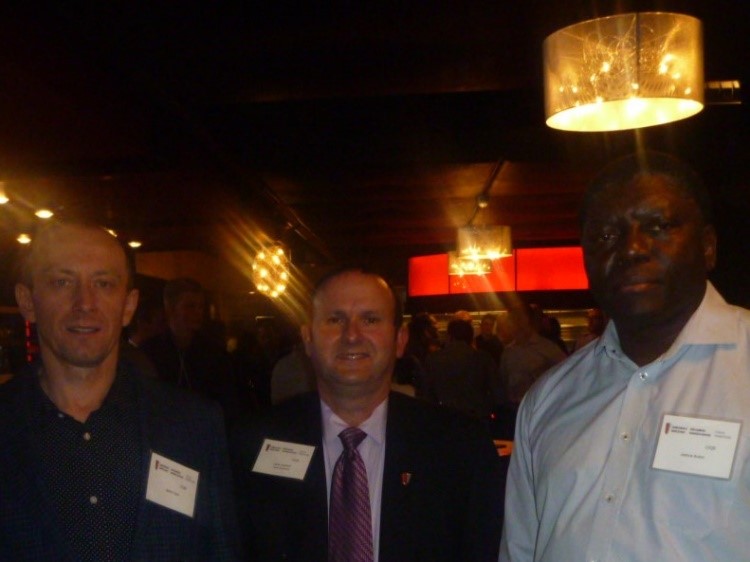 PMI-SAC wins 2017 PMIEF Community Advancement Award
October 28, 2017
2017 PMI Global Conference – Chicago         PMI – Leadership Institute Meeting - North America
This undertaking was a joint collaboration with PMI-SAC representatives Paulo Camargo, Shelley Pinder, Jerry Crawford and Calgary Urban Project Society (CUPS). The PMIEF Community Advancement Through Project Management Award emphasizes pro-bono project management contributions that increase the capacities of non-profit/non-governmental organizations. PMIEF "strives to magnify the power of non-profit and non-governmental organizations around the world in delivering their missions through the application of project management." CUPS, through its range of programs, provides integrated health care, education and housing services helping individuals and families overcome challenges to reach their full potential.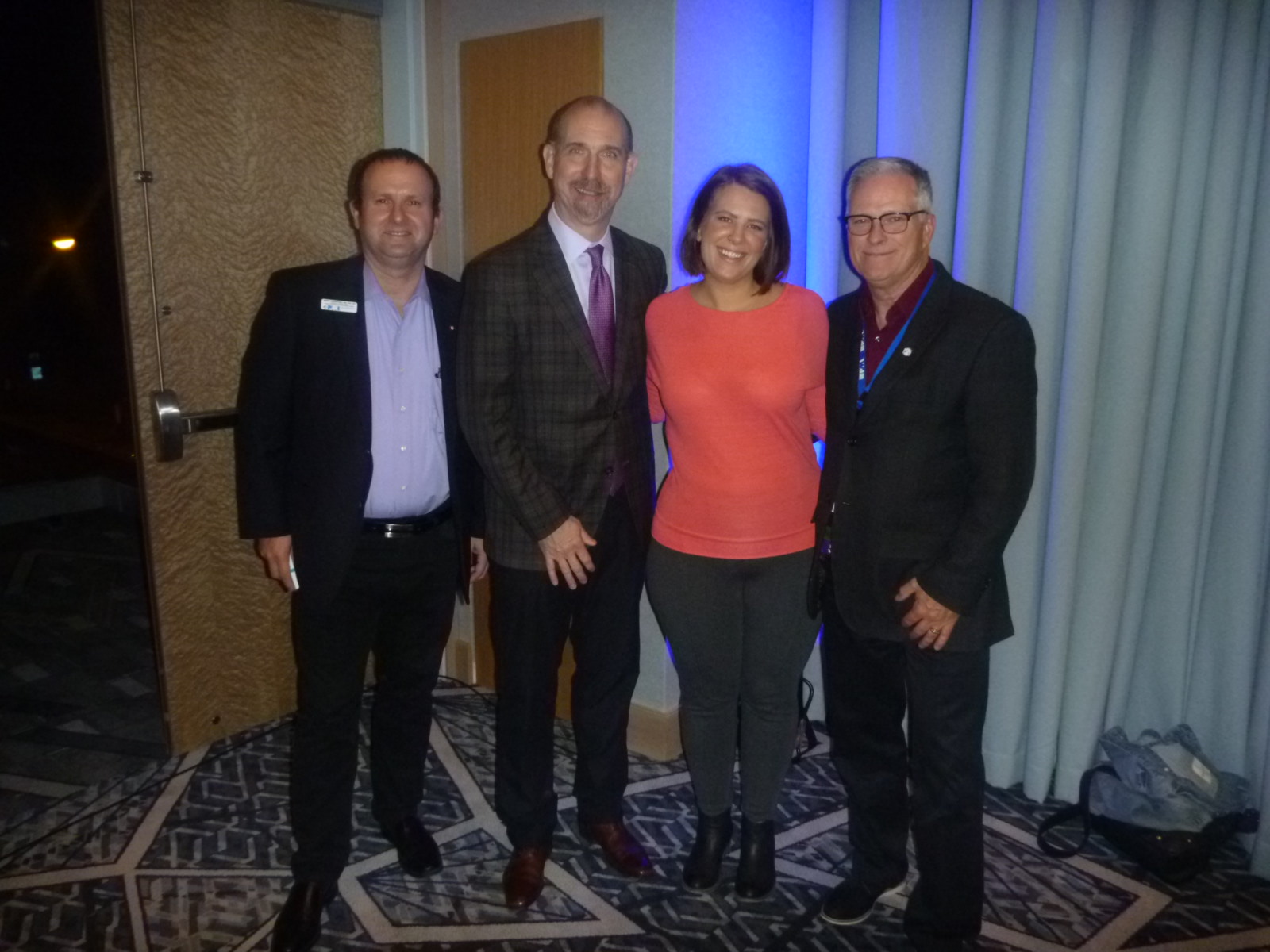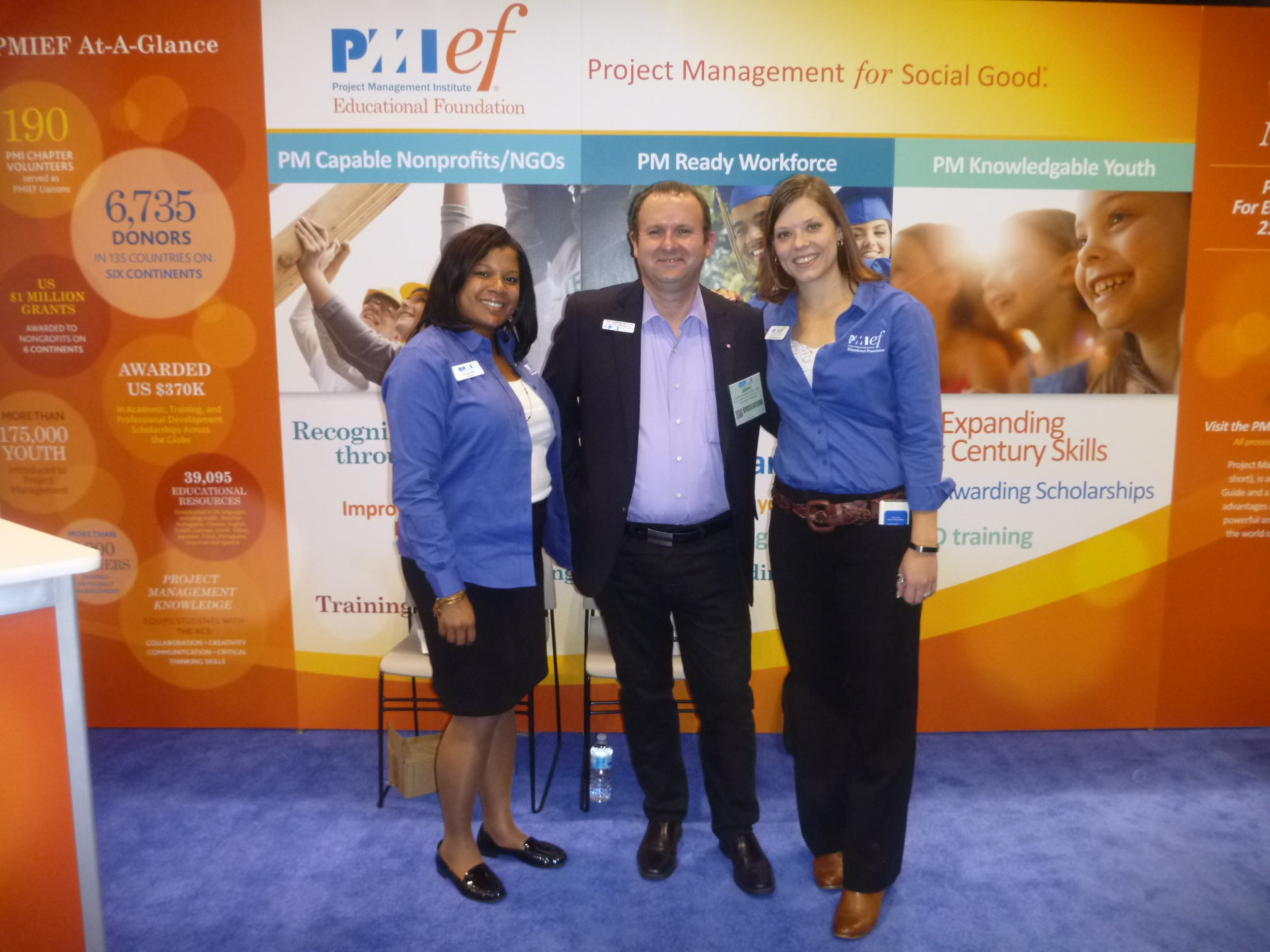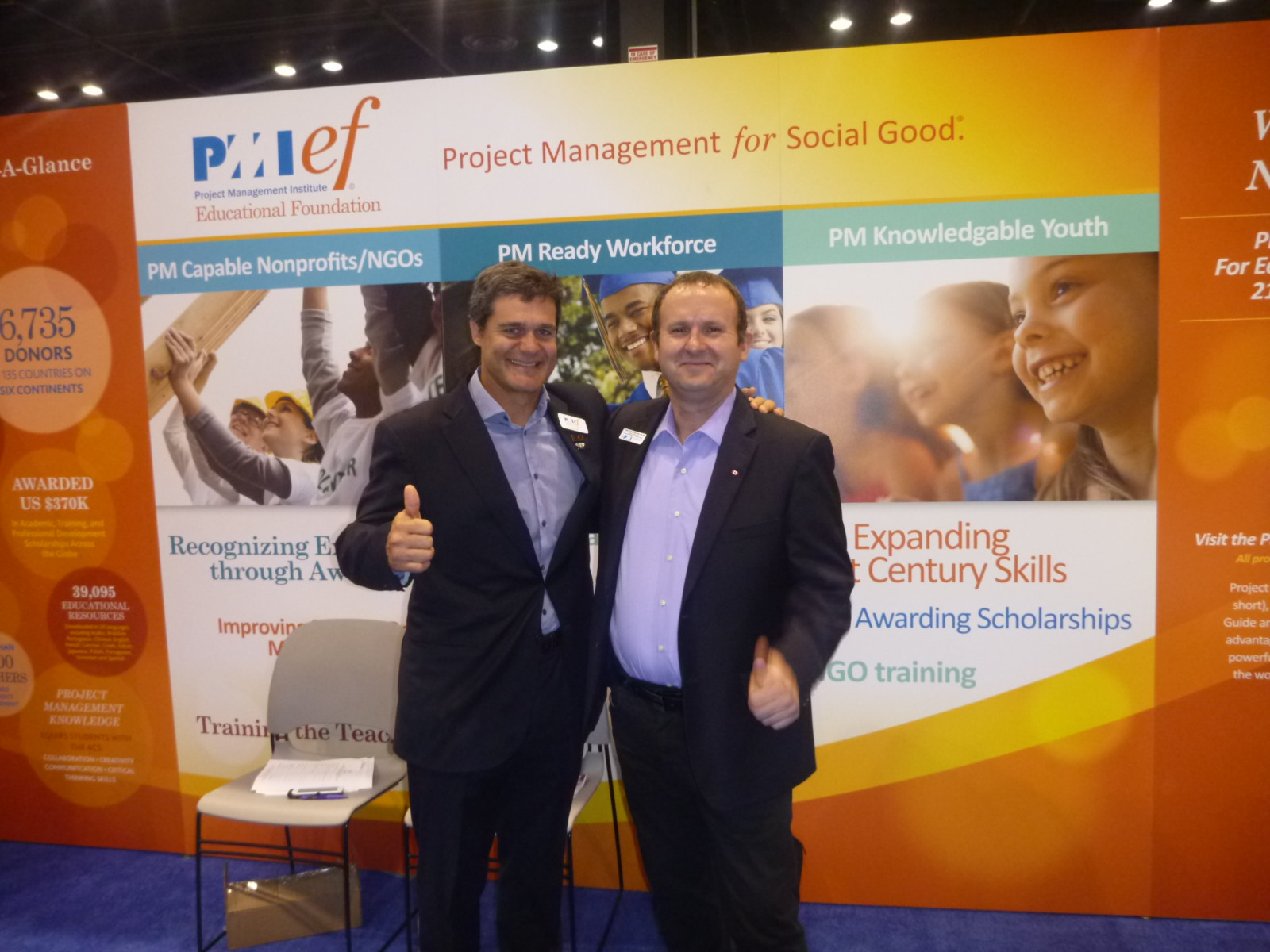 Images from 2017 PMI Global Conference – Chicago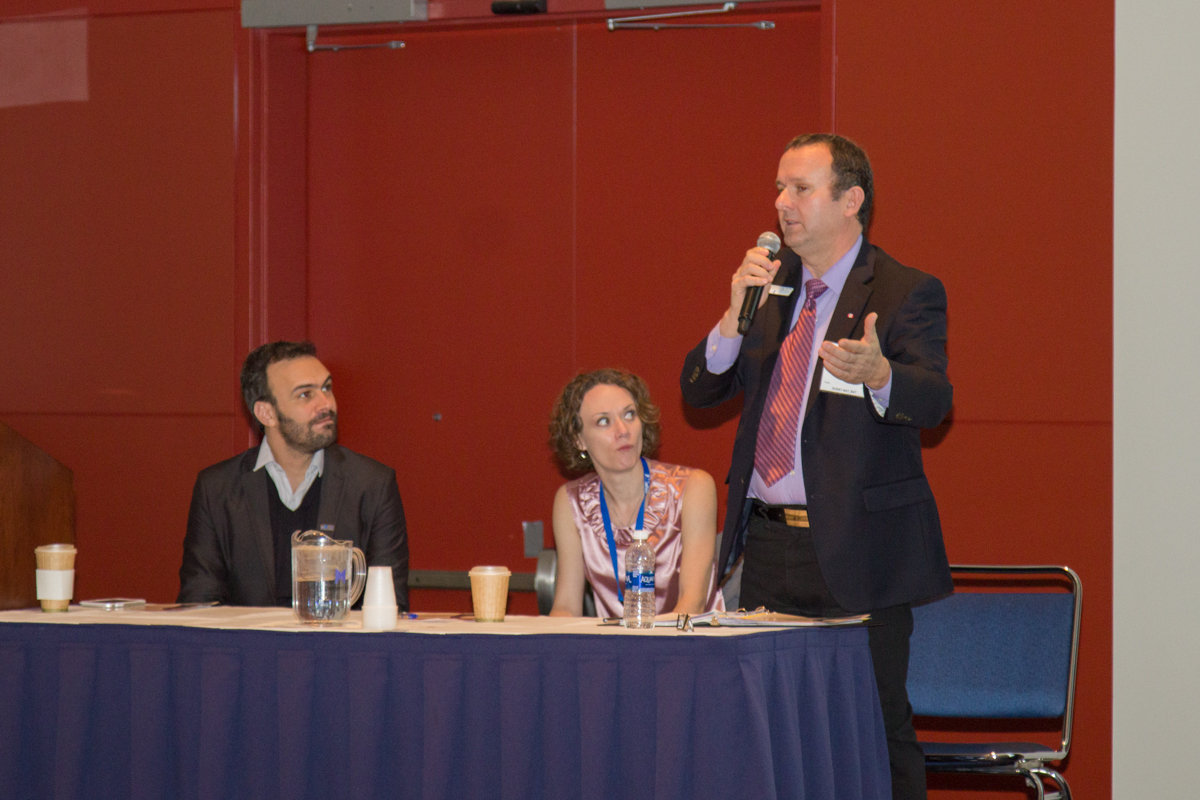 Leadership Institute Panel Discussion

Chapter Leaders Share Tips for Managing a Successful Social Good Program
(L-R) Fernando Bartelle (Brazil), Lacey Strete (USA), Jerry Crawford (Canada)
Professional Awards Gala

The PMI Professional Awards Gala and dinner is an annual celebration of project, program and portfolio management - and the industry stars who are not only changing the profession and their organizations, but enabling the evolution of their communities and the business landscape.