May 29, 2019

Construction Adjudication Symposium
 Lessons Learned & Training Support

Lessons Learned
The 2019 Construction Adjudication Symposium held on May 29, 2019 in Toronto provided a healthy overview of trends, which have transpired in various foreign markets over the past years and potential fundamental challenges could emerge in some Canadian provincial jurisdictions after 2019.
Owners, Procurement & Financial Departments, Contractors, Sub-Contractors, Vendors, Designers, and Engineers operating in the Industrial, Commercial, and Institutional Building Industries, including the Energy and Transportation Sectors will all be forced to comply with the "Prompt Payment & Adjudication" provisions of the new legislation being adopted by Ontario, Nova Scotia and Saskatchewan.
Training Support
KGC can provide orientation and awareness sessions regarding this new legislation in the form of a 60 or 90-minute Lunch & Learn. KGC can also provide construction industry stakeholders with training in the effective administration of Project Control and Project Scheduling, combined with enhanced processes for Project and Commercial Management.

Multiple Presenters provided their input on how these changes will affect not only Ontario but other provinces.

Attendees at the 2019 Construction Adjudication Symposium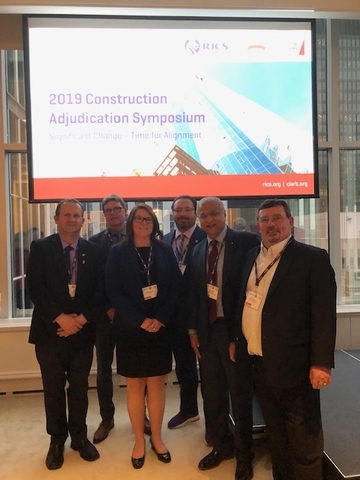 From Left: Jerry Crawford, Tony Pavlovec (KGC Consulting), Sheila Lennon (CIQS), David Dooks (Altus), Arif Ghaffur (Lakeland Consulting Inc.), Ian Duncan (Atrium Consultants)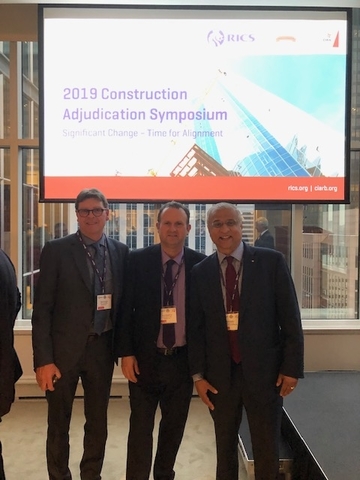 From Left: Tony Pavlovec, Jerry Crawford (KGC Consulting), Arif Ghaffur (Lakeland Consulting Inc.)