Alberta Order In Council - O.C. 052/2022
Release Prompt Payment and Adjudication Regulation
ARH Real Estate Network Seminar
October 12, 2021
A review of the current state of construction adjudication comparing Canada & South Africa. This global online knowledge sharing panel between KGC Consulting and MDA Law covered a host of issues from similar parallels and challenges in adjudication to the potential future trends. Other topics discussed are what considerations and advantages adjudication may offer over arbitration and what constitutes a good construction adjudicator.
CIQS Prairies NWT Calgary Buildex Workshop -
Lien Reform,  
Prompt Payment & Adjudication
November 6, 2019
With the Canadian construction industry in the midst of significant change with lien reform, and the introduction of prompt payment and adjudication both provincially and federally, the CIQS PNWT Chapter was pleased to sponsor and host an informative session, regarding changes meant to improve the payment process and provide a more efficient handling of construction disputes during the life of a project.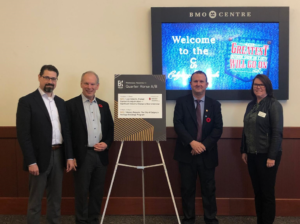 From Left: Richard Venerus (Founder & Principal of Venerus Advisory Partners), Mr. Matt Ainley (Chair of the General Contractors Alliance of Canada), Mr. Jerry Crawford (President of PNWT Chapter Region) and Sheila Lennon (Executive Director for CIQS National)
The Canadian Institute of Quantity Surveyors (CIQS) and KGC Consulting Services Ltd. are pleased to be Event Sponsors for the 2019 Construction Adjudication Symposium
May 29, 2019 Construction Adjudication Symposium
 Lessons Learned & Training Support
Lessons Learned
The 2019 Construction Adjudication Symposium held on May 29, 2019 in Toronto provided a healthy overview of trends, which have transpired in various foreign markets over the past years and potential fundamental challenges could emerge in some Canadian provincial jurisdictions after 2019.
Owners, Procurement & Financial Departments, Contractors, Sub-Contractors, Vendors, Designers, and Engineers operating in the Industrial, Commercial, and Institutional Building Industries, including the Energy and Transportation Sectors will all be forced to comply with the "Prompt Payment & Adjudication" provisions of the new legislation being adopted by Ontario, Nova Scotia and Saskatchewan.
Training Support
KGC can provide orientation and awareness sessions regarding this new legislation in the form of a 60 or 90-minute Lunch & Learn. KGC can also provide construction industry stakeholders with training in the effective administration of Project Control and Project Scheduling, combined with enhanced processes for Project and Commercial Management.
Multiple Presenters provided their input on how these changes will affect not only Ontario but other provinces.
Attendees at the 2019 Construction Adjudication Symposium